INTERNATIONAL
---
Worldwide restaurant of the century
floats in heaven in the Kingdom of Dubai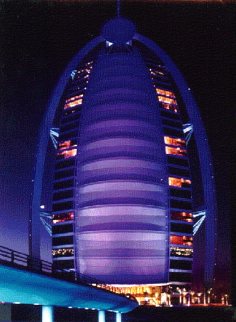 Highest suite hotel in the world
The Burj Al Arab Tower


For the richest of the rich from all corners of the world, the millennium hotel tower and the highest suite hotel in the world has been opened just in time for the new millennium. The Burj Al Arab Tower, connected with the internationally celebrated Jumeira Beach Hotel - and at a height of 321 metres higher than the Eiffel tower and only 60 metres shorter than the Empire State Building - breaks through all known barriers with its architecture, luxury, restaurants and standards of hospitality. The exact cost of the project which was completed under the auspices of Crown Prince Mohammed Al Maktoum is not known, but rumour places it at between one and two or even three billion dollars.

This will be no surprise to those who have seen the buildings and the interior design at close quarters. Guests who are in a position to take advantage of the magnificent facilities approach the "seven star hotel giant", which stands on piles inserted 40 metres deep into the sea bed, by means of a 280 metre long causeway.

The tower is a marvel of engineering which reveals itself to the full when the entrance area of the hotel is reached by Rolls Royce. In fact the term entrance area hardly does justice to this portion of the building, into which Dubai's trademark, the World Trade Center, would fit in its entirety.

Of course this king of hotels can also be reached by helicopter, making use of the landing pad provided on the top of the building, situated above the free-floating sky restaurant. The 202 duplex suites, ranging in size from 170 qm to 780 qm are decorated using the very finest of materials.

Whoever wishes to spend a heavenly night in the floating sky palace of the Dubai royals should be in a position to pay the price of between 1,700 DM for the smallest (approximately 3300 DH) and 28,000 DM for the largest suite without a second thought. All the other services are extra, from the helicopter service to the Rolls Royce shuttle - not to mention meals in any of the luxury restaurants with "Goldfinger place settings".

The most spectacular of the restaurants must be the Underwater Seafood Restaurant, which can be reached by submarine.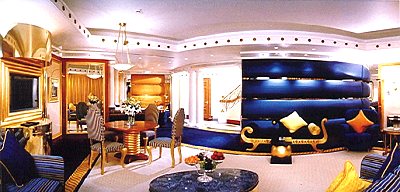 Königliche Suite im Burj Al Arab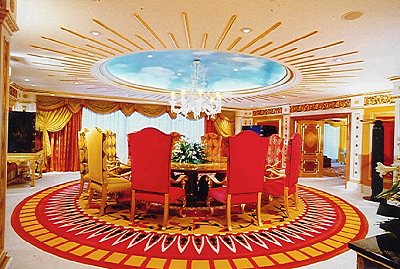 ---
48.99 Veröffentlichung unter Quellenangabe gegen Beleg.




VIP-Loge

Chefredaktion VIP-Magazin:
Prof@VIP-Magazin.tv
YES-VERLAG PO-Box 101623 D-44016 Dortmund
Fax 0049-(0)231-737355