INTERNATIONAL
---

On the traces of the catalan genius Salvador Dalí

Pure romanticism in the VIP-Hotel Vistabella


The Romantic-Hotel Vistabella is placed in a calm and small bay in the Costa Brava, it has a small pier for yates and is believed to be a secret paradise for famous people. Enamored couples, honeymoon travelers, upperclass people and the high nobility lead the attractive established hotel, which offers over 29 thematic suites and rooms.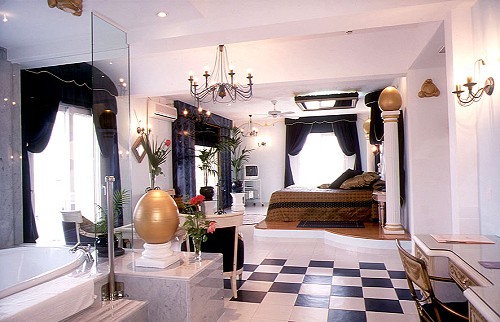 Suite and bath of the Royal Suite in the Surrealistic style of Salvador Dalí.



The Saudi-Arabian royal family, for example, are regular guests that come every year; and the guestbook looks very similar as super luxury hotels in Cannes and Monte Carlo at the "Côte d'Azur": Salvador Dalí Jean Marais, Anthony Quinn, Julio Iglesias, Harvey Keitel, Fernando Rey, Raf Valone, Rika Zarai, Maud Adams, Sascha Hehn, Lilo Pulver, Dieter Thomas Heck, Thomas Strunz...



On the beach of the hotel with its private harbor often there are "Pirate Grill Parties" celebrated during the stunning sunset. The palm trees surround the the main terrace, where the German-Swiss couple of Peter and Scarlett Veitl invites their guests to its romantic nights at the Candlelight Dinner and to the elegant evening at the Gala Barbecue. Out of one of these formal events the German television magazine RTL-Exklusiv made an exclusive report. The gastronomic offers of this family hotel are immense: A refined Mediterranean cuisine at "El Balcó de Mar" as well as the Tapas Bar and the rewarded innovative cuisine of "Els Brancs".





VIP-Hotel Vistabella
Tel. 0034-972-256200, Fax 0034-972-253213
info@vistabellahotel.com




---
ZURÜCK

2002 Veröffentlichung unter Quellenangabe gegen Beleg.

VIP-Loge

Chefredaktion VIP-Magazin:
Prof@VIP-Magazin.tv
YES-VERLAG PO-Box 101623 D-44016 Dortmund
Fax 0049-(0)231-737355