From a small, remote creak at the Costa Brave, his fame conquers the entire world: Prof. Ferran Adria - the famous "Zampano" among the best cooks of the world enchants gourmets from Europe and from all over the world with extremly inventive creations for spoiled guests in his restaurant "El-Bulli".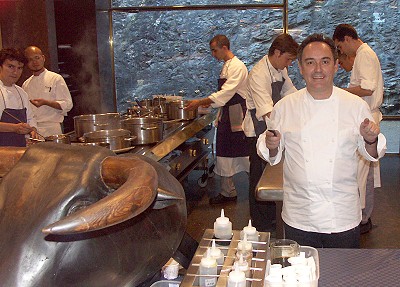 With his distinctive sign, the bull, as to be seen in the foreground, Ferran Adria presents himself as a conductor in front of some cooks of his brigade in the "El-Bulli".

But not only in the "El-Bulli", where it is difficult to secure a reservation even one year in advance, the famous cook presents his skill of cooking.

Meanwhile the ingenious cook-artist travels around the world, in order to initate his fellow cooks.

Right before their wedding the youg spanish Royal Couple visited the "cook of the cooks" in the "El-Bulli", where he cheered on his brigade as a bull (as Salvador Dali, he is "tauro" concerning the horoscope).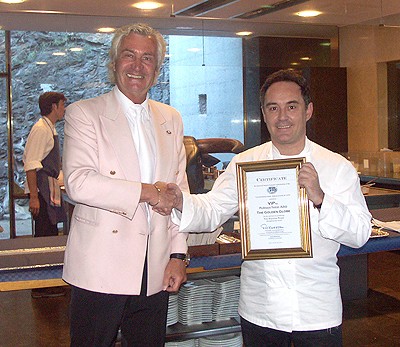 The vice president of the International Association of VIPs, Folkert Klaassen hands over the document of the highest award of honour,
"The Golden Globe" of the Lodge.


When the vice-president of the International VIP-Lodge, Folkert Klaassen, visited him in the "strictly guarded enchanted place of work" of the "El-Bulli", the great Champion was right in his very element:

When, on June 13th 2004 at 19.30 he directed his brigade with vehemence, it reminded of Herbert von Karajan, who, at one time, presented himself similar with his baton in front of his orchestra.

When then, punctually, the gates to the "Eating-Templar" of the "Chefe de Cosina" opened, the nostalgic restaurant filled little by little with selected guests, for whom the evening, as so often - for other international guests - became a unique sumptuous experience.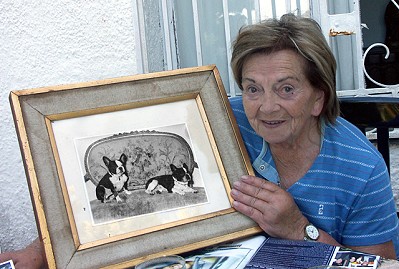 Nostalgic thoughts: The former owner of the "El-Bulli", advanced in years, Marqueta Schilling, who lives in her house above the world-reknown gourmet-restaurant, shows a photograph of ancient days with the two Bullis, with whom the successful story of the restaurant began time ago in the sleepy creek.