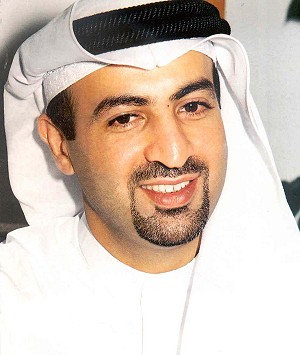 PHOTO CAPTION:
· DWTC Director General, Mubarak bin Fahad

Organizers Dubai World Trade Centre announced that the Middle East International Motor Show scheduled to take place from December 11-15 has practically sold out with more than seven exhibition halls fully booked once again confirming the show's status as the region's leading automotive event.

"Over 30,000 square metres of inter-connected space has been effectively sold and the big players in the automotive industry that will put on glittering displays include the likes of General Motors, BMW, Mini, Rolls Royce, Mercedes Benz, Maybach, Smart, Chrysler, Aston Martin, Maserati, Ferrari, Pagani, Porsche, Audi, Volkswagen, Ford, Bentley, Peugeot, Silver Stone, Toyota, Lexus, Nissan, Honda, Suzuki, Mitsubishi, Kia and Hyundai," said DWTC Director General, Mubarak bin Fahad.

He noted that there was great demand for exhibition space at the DWTC, so much so that hall eight and the Sheikh Rashid bin Saeed Al Maktoum Hall are already booked for other events and many of the cars will be tactically displayed in the new concourse.

This year's event has received excellent support from manufacturers as well as importers who will put together a dazzling display of high performance cars, luxury convertibles, sport utility vehicles & 4-wheel drives, limousines, sports coupes, hatchbacks, family saloons, specialist vehicles as well as auto parts, accessories, maintenance equipment, car care products etc.

"More than 45 motor manufacturers, designers, converters and tuning companies from America, Asia and Europe will be presenting the latest in design and technology this year with at least six new brands being introduced to the Middle East audience for the first time ever," remarked Mr. bin Fahad.

With leading manufacturers expressing a keen interest for a higher profile at the event, Dubai's status as the hub of the automotive sector, in a region that is renowned for its high ratio of automobile ownership and use, has been underlined.

The Motor Show provides an ideal platform for automotive industry leaders to showcase their wares, latest developments and concepts in a market that is both big spending and highly discerning.