INTERNATIONAL
---
LEO Wittwer's presentation 2003 in Dubai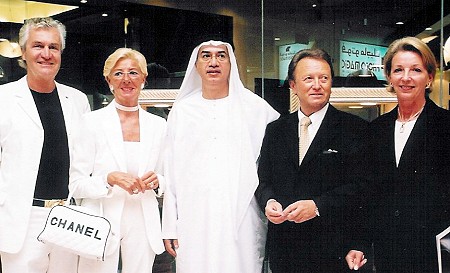 v. l. The Galasinger (R) Folkert Klaassen, Elke Klaassen, Tawhid Abdullah/DAMAS, Reiner Maier/President of LEO WITTWER, Anita Maier.



The manufacturer of high class jewellery from Pforzheim, LEO WITTWER, has benn showing his new collection together with his partner DAMAS-Jewellers at WAFI-Center in Dubai.

50 journalists and press-people have been attending the show which has been presented by the president of LEO WITTWER, Mr. Reiner Maier and the "King of Dubai jewellery" Mr. Tawfique Abdullah of DAMAS. Both companies, LEO WITTWER of Pforzheim/Germany and DAMAS-Jewellers-Dubai, with 90 outlets in the U.A.E., and worldwide 150 exclusive shops, is the most important jewellery company in the Emirates.

LEO WITTWER has offices in USA, Great Britain and Japan.

The new collection "for more lifestyle" features the contrast of fine lines and original silhouettes, the sparkle of diamond, the fine lustre of pearls and the glimmer of white and yellow gold.

Every piece of jewellery manufactured by LEO WITTWER has it's own identity. This is only possible because every step of the jewellery production - from the initial sketch to the final manufacture - take place at the company's own facilities in Germany, as it has done for more than 80 years.

Reiner Maier of LEO WITTWER met the German singer Folkert Klaassen (Bruce Voice) at the Royal Meridien Hotel at Jumeira Beach in Dubai. Mr. Klassen's songtext about glamour of gold and precious stones as well as the famous horses of the Maktoum's has recently been published in the Arabian Government-magazine "Al Adiyat" and has brought attention to the Royals in Dubai.
---
ZURÜCK

13.2000 Veröffentlichung unter Quellenangabe gegen Beleg.

VIP-Loge

Chefredaktion VIP-Magazin:
Prof@VIP-Magazin.tv
YES-VERLAG PO-Box 101623 D-44016 Dortmund
Fax 0049-(0)231-737355