INTERNATIONAL
---
Despite the world situation:
Emirates orders 58 new aircraft for 15 billion dollars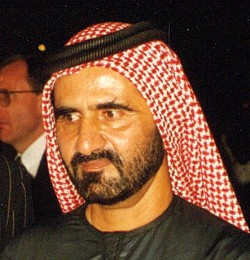 EMIRATES. Despite the terrible events taking place in the world, the Crown Prince of the United Arab Emirates, General Sheik Mohammed al Maktoum, explained at the Dubai Air Show that he wants to make Dubai a " center of trade and industry and a high-status tourist attraction in the Middle East". The order is the largest ever placed in the history of Emirate Airlines and comprises 58 passenger aircraft - twenty-two A 380 planes from the European manufacturer Airbus and twenty-five Boeing 777s.

While airlines in Europe and America are suffering a crisis, the ruling family of the Maktoums is taking the opportunity to invest in the air travel industry. The total order value amounts to 15 billion US dollars. The brother of the Crown Prince and Chairman of Emirates, Sheik Ahmed al Maktoum, has forecasted that air traffic will double within the next fifteen years. This is why the airline is preparing to be able to carry double the number of passengers in the year 2006 compared with the present time. The number of passengers carried today is 5.6 million and Emirates has achieved record profits of 85 million dollars. Sheik Ahmed is counting on the capacity of Dubai Airport increasing fivefold each year from the present level of 14 million passengers.

---
ZURÜCK

2001 Veröffentlichung unter Quellenangabe gegen Beleg.

VIP-Loge

Chefredaktion VIP-Magazin:
Prof@VIP-Magazin.tv
YES-VERLAG PO-Box 101623 D-44016 Dortmund
Fax 0049-(0)231-737355