INTERNATIONAL
---
Espana becomes the Mecca of the "Kings of Music"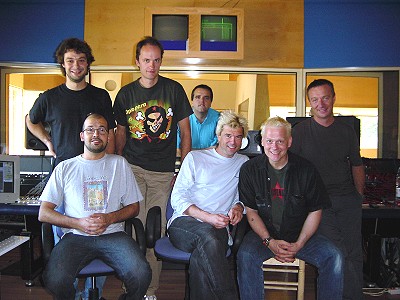 The "Toten Hosen" at the Studio of Music Lan


Celebrated singers and music groups in Europe are queuing up, and not (only) in the more well-known music capitals of the world. Within the space of two years and from small beginnings, a recording studio in Spain at the foot of the Pyrenees has developed into a high-tech music production facility. Here, in the "musicians' Mecca", MUSIC LAN has produced The King, Jovanotti, the German pop groups Die Toten Hosen and Echt, Los de Abajo and artists like Manolo Garcia, El Ultimo de la fila, Bunbury, Jarabe de Palo and Monica Naranjo. Music Lan recently entertained Maria Carey and supported Dana Jon Chapelle with mixing her latest single "Loverboy".

The technical equipment is at the highest level and the atmosphere is also ideal for successful music production. The Tote Hosen "held out" there for four weeks during production of their latest album. But then that wasn't so hard: the right creative conditions for the artists at their micros and recording machines are created by the facilities on offer - swimming pool, solarium, barbecue, restaurant and games room. " The concept of Music Lan", says the visionary and owner of the TOP recording studio Joan Trayter Malirach, " is to offer world-class equipment combined with technical specialists who have an exceptional feeling for sound design - all in a unique location."

---
ZURÜCK

2001 Veröffentlichung unter Quellenangabe gegen Beleg.

VIP-Loge

Chefredaktion VIP-Magazin:
Prof@VIP-Magazin.tv
YES-VERLAG PO-Box 101623 D-44016 Dortmund
Fax 0049-(0)231-737355