· 53 per cent more exhibitors
· 20 per cent more visitors

A further important step has been taken towards establishing the most important meeting place for the security sector in the Middle East: The second international security fair and congress "Security and Safety Middle East" closed in Abu Dhabi, having been a great success. A total of 271 exhibitors from 37 countries, an increase of 53 per cent on the premiere event in 2003, presented their product innovations and services to trade visitors on an extremely high level. Approximately 14 500 fair and congress visitors - 20 per cent more than two years ago - were able to gain information on the products on offer and take part in talks and negotiations in order to make or prepare investment decisions.

Ten Home Secretaries from Europe and the Gulf region, including ex-Home Secretary Otto Schily, and a total of 13 official national delegations were present, highlighting the great significance of the trade fair.

The fair organisers, the Abu Dhabi National Exhibitions Company (ADNEC) and the Messe Essen, also spoke of top results. Dr. Joachim Henneke, head of the Messe Essen, said: "The close cooperation with the UAE Home Office ensures that "Security and Safety Middle East" has a top position among safety trade fairs in the Gulf region. It guarantees the approval of civil, commercial and government demand areas from the whole MENA-region and even neighbouring Asian countries. Particularly when decisions have to be made about acquisition, investment and planning, "Security and Safety Middle East", with its many suggestions, ideas and contacts here in the capital city Abu Dhabi is a trade experience at the very highest level.

Comprehensive range of exhibits

The range of exhibits on offer included a wide variety of highly technical products and services in the areas electronic and mechanical security technology. This included identification techniques using ID-cards or biometric information, specialized vehicles, tracking robots, weapon technology, building and perimeter protection, fire extinguishing techniques, personal security and safety clothing, as well as radio and code systems for civil and government use.

Award-winning joint German stand

The joint German stand with 32 exhibitors and supported by the Ministry of Economic Affairs and Employment was again picked out from the other joint national stands and awarded the fair's "Best Pavilion" prize. The German presentations showed a wide range of products including, for example, locking systems, safety fencing, access control with ID-cards or biometric information, fire safety, CCTV systems, data protection, code systems, remote surveillance and ID systems. With the support of the German embassy and the German Economic Circle Abu Dhabi many important economic contacts were also made.

There was also a positive response to the very professionally organised safety congress. It was run by the Home Office of the United Arab Emirates and had international speakers from Asia, the USA, Europe and Australia. Important ideas about how to optimise private and business safety were in focus at the congress. The workshop "Technology against Terror (TAT)" celebrated its premiere. Main topics included the best possible use of security systems to protect objects such as office blocks, industrial plants, event centres, airports and logistics systems.

The third "Security and Safety Middle East" takes place from 28th to 31st October 2007 in Abu Dhabi.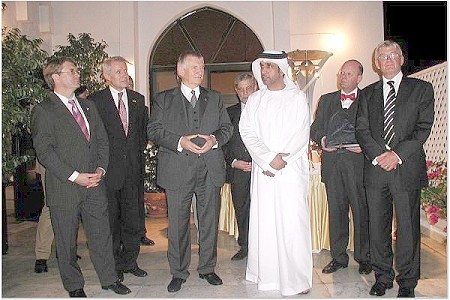 At the opening of the "Security and Safety Middle East"; (from left to right)
Dr. Joachim Henneke, Chairman and CEO of Messe Essen, Dr. Wolfgang Reiniger,
Lord Mayor of the city of Essen, Federal Minister of the Interior Otto Schily,
HE Ahmad Humaid Al Mazrouie, Managing Director ADNEC,
Edgar P. Horn und Ambassador Jürgen Steltzer.